Sat 23 – Sun 24 Sep, Sat 30 Sep – Mon 2 Oct 10.30am – 12.30pm or 1.30–3.30pm
Paper, scissors, shadow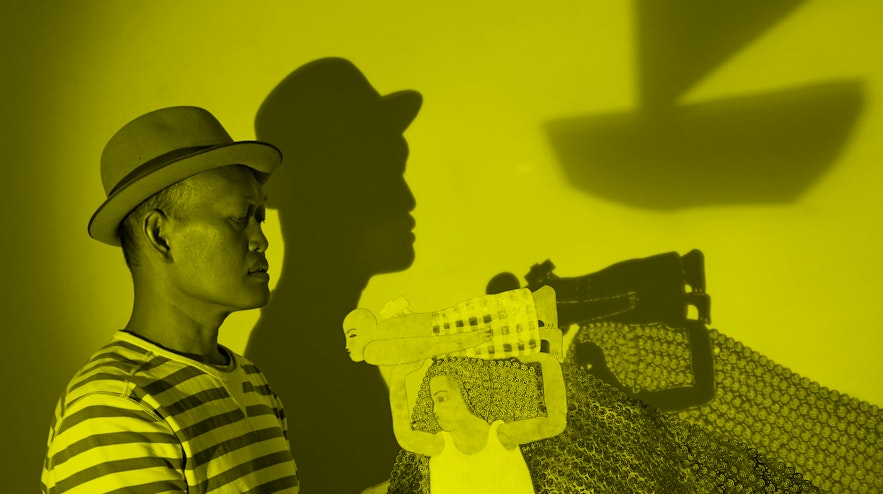 Join Jumaadi and his Shadow Factory collaborators for a free 2-hour workshop that explores drawing, paper cutting, storyboarding and shadow puppetry as a form of storytelling.
Participants will create a series of paper cut-outs to build their own stories, which will then be staged as a performance at the end of the day, building on Jumaadi's incredible two-dimensional puppet artworks and the Indonesian tradition of shadow-puppet theatre.
Please register onsite 15 minutes before the session, maximum 25 participants per session.
Open to children 8+, children under 10 must be supervised by a guardian.
Morning session, 10.30am – 12.30pm

Afternoon session, 1.30–3.30pm
Details
Paper, scissors, shadow
Date and time
Session 1: Saturday 23 September 2023, 10.30am – 12.30pm

Session 2: Saturday 23 September 2023, 1.30–3.30pm

Session 3: Sunday 24 September 2023, 10.30am – 12.30pm

Session 4: Sunday 24 September 2023, 1.30–3.30pm

Session 5: Saturday 30 September 2023, 10.30am – 12.30pm

Session 6: Saturday 30 September 2023, 1.30–3.30pm

Session 7: Sunday 1 October 2023, 10.30am – 12.30pm

Session 8: Sunday 1 October 2023, 1.30–3.30pm

Session 9: Monday 2 October 2023, 10.30am – 12.30pm

Session 10: Monday 2 October 2023, 1.30–3.30pm
Location
Art Gallery of New South Wales
North Building
Lower level 1, Learning Studio
Pricing